About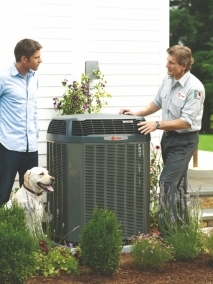 All Plumbing Heating & Cooling is a locally founded and operated company. Gene and Sherry Martin founded All Plumbing Heating & Cooling over 25 years ago. They are still owners, along with their son, Jason Martin. All Plumbing Heating & Cooling was established with three main areas of focus: Prompt Expert Service. These areas are still the core foundation of the company.
Our Pledge to our Customers:
* We will strive to give you the very best service experience possible. Our staff is trained to ensure that you are taken care of from the first contact until the job is completed.
* Our technicians are highly trained and skilled to handle the simplest or most complex problems in their fields.
* Our technicians are drug tested and Background checked. We know who is coming to your house so you don't have to worry.
* You will always know the cost of the job before we begin, No surprises. We use a fair but simple standardized pricing manual. We will review all options and pricing with you before we start. We charge by the job not by the hour. Our customers find that this is a much fairer pricing structure because they are not penalized by the experience of the technician.
* We are always available for you. Our office is at 605 Sterlington Rd in Monroe. We are there from 8-5 M-F. Our highly trained customer service staff will be there to schedule your service call requests during these hours. We offer 24 hour emergency service after hours.
* We will respect your home. Our customers have said that we have "The Cleanest Techs in Town". We always strive to leave our work areas cleaner than we found them.
* We will perform the job right the first time. If there is an issue that we agree with you that cannot be warranted, we will discuss all of your options to correct the problem.
* We will communicate with you and be up front about anything that we see while in your home that could be a potential hazard to you or your family.
** Above all, we will always do what we feel is right for our customers. Our customer's referrals to their friends and families are a major source for our business.