Professional Plumbing Services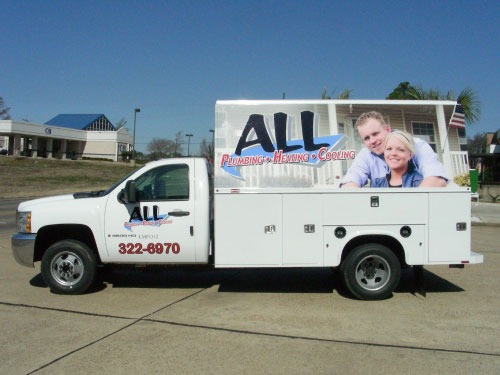 All Plumbing Heating Heating & Cooling can make your plumbing problems disappear.
Our plumbing technicians are seasoned professionals. They won't merely fix the symptom. They will find the root problem and fix it, for good.
In fact, we can fix the problems you may not know can be solved. Often the solution is simpler than you might imagine. Toilets not flushing? Running out of hot water? No matter what your plumbing problem might be, call us. We can take care of it.
We Offer Great Value, Not Cheap Work...
With us, you receive prompt service from some of the most highly trained and skilled technicians in the area.
We arrive fast.
We find the problem fast.
We repair it fast.
We repair it right, the first time.
We clean up.
And we stand behind our work!
Let's face it. No one likes to deal with plumbing problems. It's a hassle. Isn't it good to know that you're dealing with professionals who will end the ordeal and get out of your hair with a minimum of trouble on your part?
In truth, our prices are not that much more than the next guy. While we could cheapen our standards to match the next guy's prices, would you really want us to? After all, it's about safety and convenience in your home.
Our Services Include:
Sewer & Drain - Besides cleaning your drain, we can look inside to see what's causing the problem. Then we can fix it - FOR GOOD!
Water Heaters - Tankless water heaters heat water on demand, and that means you never have to worry about running out of hot water
Water Quality - You and your family can enjoy purer, better water for drinking, cooking, and lawn care
Toilets - The toilet is the biggest household water bandit. We can install high efficiency low water use toilets
Water Alarms - Make sure you control water damage in a home, boat or business
Plumbing Maintenance - With Our Plumbing Agreement Program You Save Time, Money and Stop those Bad Surprises