Super Citrus Drain Cleanser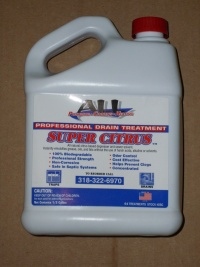 Super Citrus is a safe, eco friendly alternative to conventional harsh sewer chemicals. Super Citrus contains no acid. Since this product is derived from oranges, it is safe to use in your plumbing system. Super Citrus will not harm your pipes. Each 1/2 Gallon is concentrated, so you get the most product for your money. Each container contains 64 treatments. This is a sewer maintenance product that is most effective on grease and buildup in drains.
Super Citrus can be administered in commercial drains using an automatic dispensing system. Programs are available.
Call today to start your Super Citrus drain maintenance program.